Cotswold Wool Yarn
Yarn of rare beauty from a rare breed of sheep.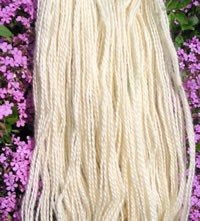 Renowned for centuries in Britain for its beauty and utility, Cotswold wool production funded the construction of the great cathedrals and churches, and literally helped England become the country it is today. Cotswold sheep were introduced to the US in the mid-1800s. Cotswold wool has long been referred to as "the golden fleece" both for its creamy color and its great value. Usurped from favor in the early 1900's by the fine wools and other causes, the Cotswold breed dwindled to near extinction. Resurrected at the very brink, the Cotswold today is enjoying a comeback, but is still considered rare by
The Livestock Conservancy
- meaning that there are fewer than 1,000 annual North American registrations, and estimated fewer than 5,000 purebred animals existing worldwide. Borrowing from the "golden fleece" legend, we are pleased to offer "Golden Sheep Yarn" © - 100% pure Cotswold wool yarn exclusively from our flock.
Fleece from our Cotswold sheep flock is carefully skirted and sorted by hand to ensure that only sound, clean, long-stapled fiber goes into our yarn. The natural white yarn is not snow white, but rather a warm cream or ivory color. My brother calls it "candlelight" and I think that's the perfect description of the color. Our Cotswold yarn is milled by
Stonehedge Farm and Fiber Mill
whose expertise with long-stapled fiber really highlights the natural luster of this lovely long wool. Sometimes called Poor Man's Mohair, Cotswold has arguably the most shine of all wools, and takes dye wonderfully. It is a strong, supple yarn with a feeling of substance to it, and will drape nicely.
Cotswold yarn is:
High luster with a shine that seems to light the yarn from within
Strong and can handle wear and abrasion without pilling
Smooth, with very little elasticity
Substantial yet supple, providing good drape to finished goods
Our yarn is currently created in two weights - a 3-ply bulky and a 3-ply sportweight. There are also a few skeins listed of prior, different weights.
Do you need to wash your fine woolens? Hop on over to
our page of Unicorn Products
for our selection of wool washing and conditioning products.
Pleased to be an official fiber provider for The Livestock Conservancy's "Shave 'Em To Save 'Em" program!
Natural Gray 3-ply Sport Weight Yarn




Sterling


Solid medium gray with high luster. Rich, almost metallic looking.


5.0 oz. / 142g
250 yd / 228 m
14 wpi

$18.75



Sorry, Sold Out

Natural White 3-ply Sport Weight Yarn




Reliance


Natural creamy white, high luster.


5.0 oz. / 140g
~250 yd / 227 m
18 wpi

$18.75



Sorry, Sold Out

Hand Dyed 3-ply Sport Weight Yarn




Seashore


Beautiful sky blue, a darker steely blue and patches of sandy tan and white. You can almost hear the ocean!



4.5 oz. / 130g
~250 yd / 227 m
17 wpi

$24.75



Sorry, Sold Out





Lemon Ice


A soft, buttery, spring yellow

$24.75







1 skein available





Tequila Sunrise


Saturated orange, yellows and a touch of pink.

$24.75







1 skein available





Sunrise in Paradise


Warm rose, gold, lilac and all the shades in between. Colorful and yet serene. Just lovely.

4.5 oz. / 130g
~250 yd / 227 m
17 wpi


$24.75







One skeins available





Tulip Party


A spring flower bed captured in a skein of yarn. Soft pink, peach, yellow, green and cream.



4.5 oz. / 130g
~250 yd / 227 m
17 wpi

$24.75



Sorry, Sold Out





Atomic Fireball


Hot cherry red, orange and blips of bright yellow. Hot!


5.5 oz. / 160 g
~250 yd / 227 m
15 wpi

$24.75







2 skeins available





Piney Woods


Deep pine green with blue spruce and shading up to small blips of gold.



4.5 oz. / 130g
~250 yd / 227 m
17 wpi

$24.75



Sorry, Sold Out

Natural White 3-ply Bulky Yarn




Stalwart


Natural creamy white, squishable but sturdy, high luster.

5.5 oz. / 150 g
115 yd /105 m
9 wpi


$22.75




Hand Dyed 3-ply Bulky Yarn




Seashore


Beautiful sky blue, a darker steely blue and patches of sandy tan and white. You can almost hear the ocean!

5.5 oz. / 150 g
115 yd /105 m
9 wpi
$29.25



Sorry, Sold Out





Raspberry Sorbet


Luscious light raspberry color


6.5 oz. / 190 g
115 yd /105 m
9 wpi

$29.25







1 skein available





Tutti Frutti


Gentle pink shading through lavender to lilac.


6.5 oz. / 190 g
115 yd /105 m
9 wpi

$29.25







1 skein available





Mauve Madness


Light and dark mauve.


6.5 oz. / 190 g
115 yd /105 m
9 wpi

$29.25







2 skeins available





Razzle Berry


Shades of blue, rose and plum


6.5 oz. / 190 g
115 yd /105 m
9 wpi

$29.25







One skein available





Pansy Patch


Happy flower colors - pinks, yellows, blues and in-between shades with some white showing through.


6.5 oz. / 190 g
115 yd /105 m
9 wpi

$29.25







1 skein available





Sunrise in Paradise


Warm rose, gold, lilac and all the shades in between. Colorful and yet serene. Just lovely.

5.5 oz. / 150 g
115 yd /105 m
9 wpi


$29.25







Three skeins available





Piney Woods


Deep pine green with blue spruce and shading up to small blips of gold.

5.5 oz. / 150 g
115 yd /105 m
9 wpi


$29.25







Three skeins available





Tulip Party


A spring flower bed captured in a skein of yarn. Soft pink, yellow, peach, green and cream.

5.5 oz. / 150 g
115 yd /105 m
9 wpi
$29.25



Sorry, Sold Out





Cranberry Cocktail


Predominantly cranberry red with short streaks of yellow, green and light gray with intermediate shades where colors blend (orange, olive, rose, etc).

5.5 oz. / 150 g
115 yd /105 m
9 wpi

$29.25







Five skeins available





Cheetah


Shades of pale yellow and gold, , light brown, silver gray and charcoal.

5.5 oz. / 150 g
115 yd /105 m
9 wpi

$29.25







Five skeins available





Cranberry Bog


A darker version of Cranberry Cocktail with short lengths of yellow, green and silver. A redder and more muted version of Cranberry Cocktail.

5.5 oz. / 150 g
115 yd /105 m
9 wpi

$29.25







One skein available





Misty Rose Garden


Light plum-pink with short stretches of soft yellow, green and silver.

5.5 oz. / 150 g
115 yd /105 m
9 wpi

$29.25







One skeins available





Citrus




Orange, lemon and tangerine shades.

Bright and happy!

6.5 oz. / 190 g
115 yd /105 m
9 wpi

$29.25







2 skeins available





Don't Shoot Me




Vibrant 'hunter orange'.

Not for the shy!

6.5 oz. / 190 g
115 yd /105 m
9 wpi

$0.00



Sorry, Sold Out

Hand Dyed 2-ply Bulky Yarn




ODD LOT




Oxblood


5.0 oz / 140 g
105 yd / 95 m
A bit darker red than this - more of a primitive red.

$0.00



Sorry, Sold Out

Core Spun "Gosh Darn Big Yarn!"


Core spun yarn is created by wrapping fiber around a central thread. In this case Cotswold wool has been applied to a cotton cord base. This yarn is super chunky, "squishy", lustrous, strong, and has just about no elasticity so it won't stretch. Use in weaving, crochet or knitting (size 17 needles work well) to make mats, rugs, trivets, baskets or the popular uber-thick wearables!





Olive Garden


Medium olive green and warm gold tones

~ 2.6 lbs
~ 100 yds
~ 2 wpi

$0.00



Sorry, Sold Out





Cream


Natural creamy white.

$63.00



Sorry, Sold Out





Tiger Stripe


Warm orange shading to dark brown/black.

$0.00



Sorry, Sold Out